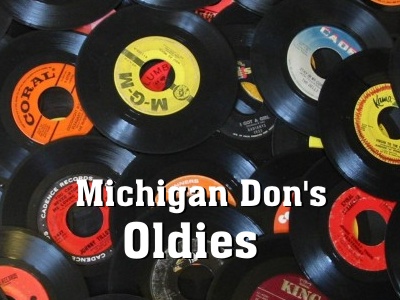 All the oldies all the time



Michigan Don's Oldies


An Outpost Radio station

Listen now - free, no login required.
iTunes stream category Golden Oldies


New app! All Outpost Radio Stations - get it now


---
Popup Player



Mobile and PC Players

VLC (m3u)

---

Email the DJs
Specials on Michigan Don's Oldies:

Comments or suggestions on our specials? Send us a message here.
Catching A Wave with James Riley - Sounds of summer, surf, and good-time rock 'n roll. Saturday 11am eastern.
"History in the Making" with Bob Pratt. Tidbits of history, the times and the music of the 50's and 60's. Several times daily.
Wide
Just Played
The largest collection of oldies from 1955 to 1969 on internet radio. Everything from #1 to #100 on the charts.

Tracks from original 45s released between 1955 and 1969, collected and curated by Michigan Don.



Michigan Don's Oldies

is a 24/7 internet radio station supported by in-stream ads. Michigan Don's Oldies began on Live365. Welcome back former Live365 listeners.

Technical problems update.
Can't get the station on your internet radio? Check here for help. If you still have other problems, email the DJ and tell us about it.


---

Check out 57 Chevy Radio, Feel Good Rock, The Acoustic Outpost, and Bob Dylan Tracks, other stations of the Outpost Radio Network.

---
---
Advertisements
---
---